10 Conference Room Setup Ideas
Despite the rise of digital communication, in-person meetings remain a vital aspect of operations in businesses across various industries worldwide.
However, after a prolonged period of time sitting at the same conference room table, using the same equipment, and following the same processes, meetings in conference rooms start to become tedious and stressful.
This creates a need to implement new features in conference room layouts and spaces. However, the question remains: how can this be achieved? Continue reading to explore the top 10 conference room setup ideas in the workspace.

Why Are Conference Room Improvements Important?
Brainstorming sessions, department check-ins, client meetings, and group discussions are just some of the meeting types that company team members face in their day-to-day work lives.
In order to boost productivity, improve morale and increase engagement of both smaller and larger groups, it is necessary to implement new conference room ideas. The following statistics support this statement:
A study by Harvard Business Review revealed that 71% of 182 surveyed senior managers believe conference meetings are unproductive and inefficient most of the time.
Research conducted by Gallup shows how important it is to innovate in the workplace to maintain a great company culture and boost team members' productivity.
"The Cost of Unnecessary Meeting Attendance," a study conducted by Otter.ai, says that eliminating unnecessary meetings results in significant savings for companies.
All these statistics and studies show us how important it is to innovate, adapt and improve conference rooms inside workspaces with innovative and efficient ideas.

How to Pick Efficient Conference Room Setups
Not every conference room setup works for all company types. In order to pick conference room setup ideas that go along with the needs of your company and team, it is important to consider the three following factors:
Consider the size of the team: Taking into account how many employees there are in a company is the starting point for picking the right setup idea for conference rooms.
Don't forget about remote employees: Hybrid and remote work are the common rules in several companies around the world. By implementing clever conference room setups, remote participants can join video meetings with employees who are already in the office space.
Conference room equipment: Great conference room equipment can make all the difference in remote meetings. Having a conference room phone for quick phone calls, high-quality audio-visual equipment, a floor plan, good chairs, and a nice conference room layout creates more efficient and productive meetings in the workspace.

10 Best Conference Room Setup Ideas
Keeping pace with all the modern changes in different work industries is a crucial part of today's business survival.
However, implementing conference room layouts will not only improve the productivity of team members, but it's also a fun way to innovate and continue growing. The following 10 conference room setup ideas and trends in 2023 are exactly what you and your team are looking for.

1. Setup Meeting Room Display
Oftentimes, one of the biggest barriers to efficient meetings is scheduling and room availability. Meeting Room 365 is the fastest way to add meeting room displays to any meeting room.
By using Meeting Room 365 you can quickly turn a mobile device, tablet (iOS and Android), or Amazon device into a meeting room display or status board display with a complete overview of all meeting rooms across the office.
Team members will use their personal devices to quickly find and book office rooms via Office 365, Exchange, and Google Workspace, which creates a smoother meeting experience for everyone.


2. Virtual Reality in Meeting Rooms
Virtual reality is changing the way we communicate with each other. Screen-sharing apps, video calls, and social media platforms already marked a difference in how company members interact, and virtual reality is following the same path.
However, a study by Norwegian Business Schools shows that there are still many barriers to implementing fully functioning virtual reality meeting rooms.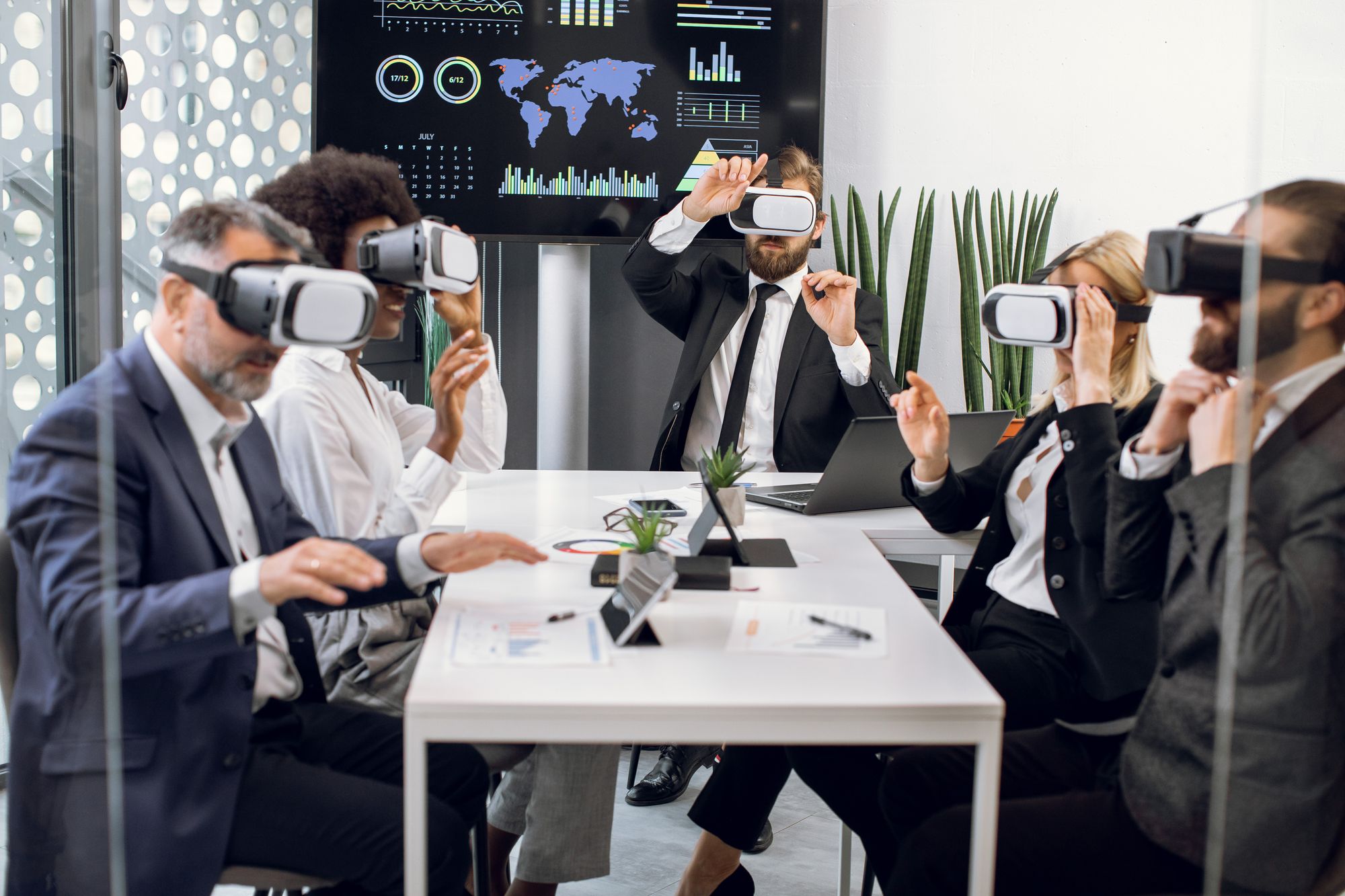 As of now, virtual reality meeting rooms work better for small groups rather than medium or big-sized companies. Either way, as Virtual Reality continues to advance and improve, companies that embrace this technology will gain a competitive edge.

3. Conference Room Layout with Interactive Whiteboards
Classic old blackboards are a thing of the past - having an interactive whiteboard can greatly improve conference room layouts by taking advantage of this technology.
Amasya University shows how interactive whiteboards impact the lives and learning processes of students, and these same benefits apply to workspaces.
By implementing an interactive whiteboard inside conference room setups, it is possible to show useful photos, record entire meetings, save and show important emails, and collaborate with remote team members easily.
However, interactive whiteboards can be quite expensive (between 2,000 and 5,000 USD), which is one of the main barriers related to this useful product.

4. Video Conference Rooms with LED Video Walls
LED video walls are a smart, cheaper, and more efficient alternative to interactive whiteboards.
With LED video walls, conference rooms gain a dynamic advantage to improve the meeting process.
Implementing a conference room layout with LED video walls is relatively affordable and easy, but the meeting space should be large enough for the system to work properly.

5. Themed Conference Rooms
Clever conference room design ideas often include customized options that appeal to the overall theme of the company.
Among the most popular conference room design layouts and ideas, we have the following:
Inspired by outer space: Conference rooms inspired by outer space are trendy in 2023. By breaking the routine and choosing a unique design, conference room setups can be provided with personality.
Brainstorming conference room design: Some conference rooms are used exclusively for brainstorming sessions. By following this theme, providing meeting rooms with a design related to their main use is a great way to boost employee engagement inside the workplace.
Gaming meeting space: Gaming companies often opt to include gaming designs in their conference rooms. For example, IGN's conference room is inspired by the favorite video games of the employees. This example can be extrapolated and applied to other industries as well.

6. Modern Conference Room
Modern conference room setups make the best out of natural light by implementing glass walls and including sustainable features, such as reducing the use of electricity.

The most common features of modern conference rooms are great acoustic, top-of-the-industry conference room equipment, and great software to successfully implement video calls.
Generally, modern conference rooms have white walls or modern wall art to provide the room with a futuristic, sustainable, and modern essence.

7. Conference Room Layouts for Training Rooms
Training new and current employees inside a conference room is a common practice in many companies.
However, dull and standard conference room setups can be intimidating or might not showcase a welcoming environment. Therefore, implementing the following conference room setups works to improve training rooms:
Banquet style: Using an oval table and chairs around to create a dining-like atmosphere is one of the greatest welcoming designs inside training rooms.
Classroom style: Small tables or desks facing the front are great layouts for training sessions and team conferences.
U-shape style: Tables in a U-shape configuration with chairs around make all team members face each other, even if we are talking about a small table, which creates a sense of connection and closeness.


8. Best Large Conference Rooms Layouts
Managing large company groups is harder than organizing smaller groups. To successfully implement large conference room setups, the following ideas work as a great starting point:
Lounge style: Lounge styles in conference rooms consist of implementing sofas, comfortable chairs, and more laid-back styles to reduce the tensions of conferences by turning them into casual conversations.
Theater style: Instead of using a large conference table, put multiple rows of chairs facing the front. This creates a theater style that works to handle large numbers of participants inside a single conference room.
Banquet style: Different formats collaborate to create a setup that works for large groups, and banquet style is one of them. Think of the banquet style for conference rooms as the classic painting by Leonardo Davinci, "The Last Supper."


9. Meeting Spaces with Inclusive Furniture
Senior meeting participants and employees with mobility issues will greatly appreciate the implementation of easy wheelchair access and inclusive furniture inside conference rooms.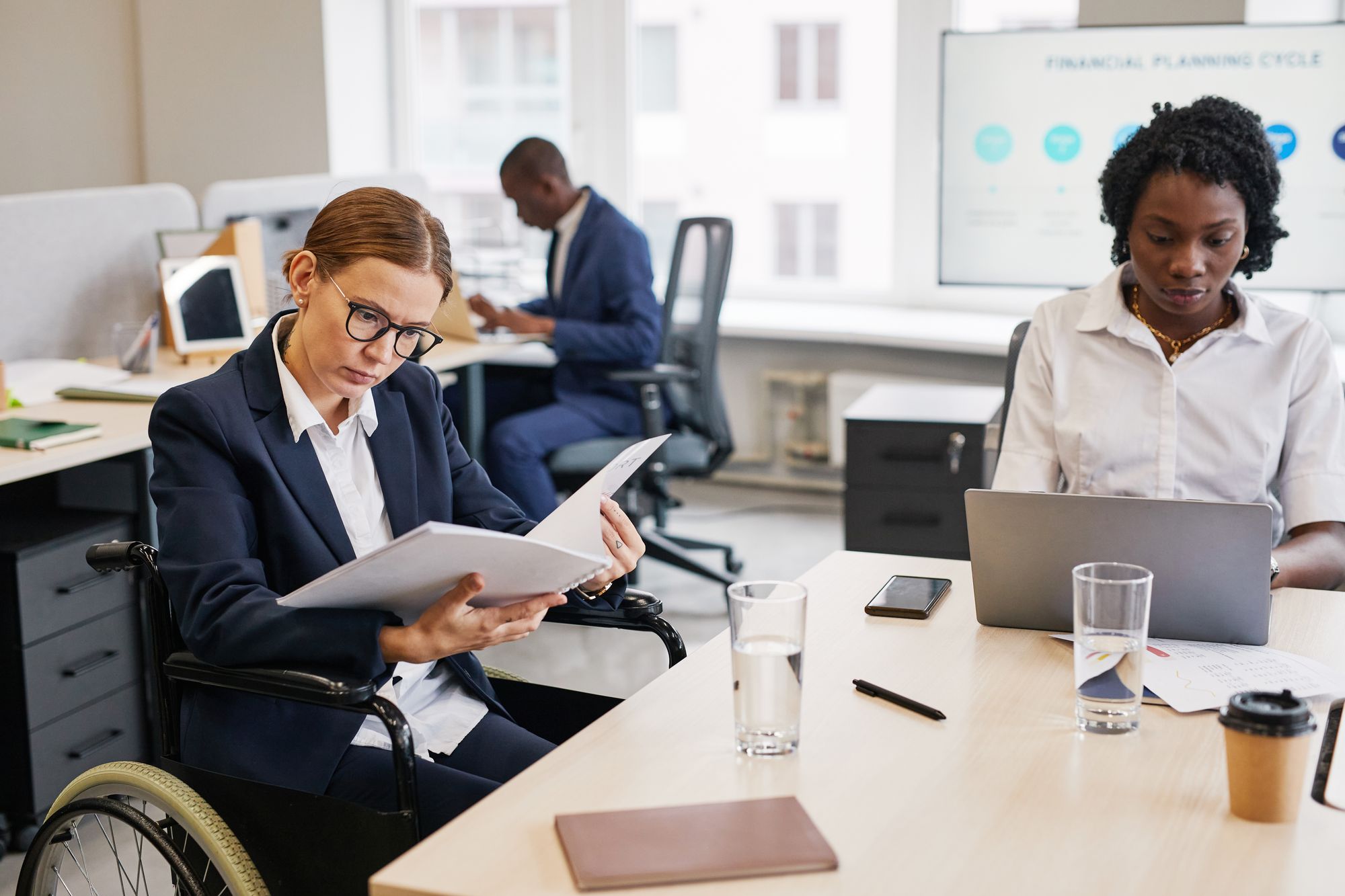 Comfortable seating can make a difference during corporate events or standard team meetings.
Ergonomic office chairs and height-adjustable furniture are some of the main ideas that can be implemented inside conference room setups to greatly improve how comfortable attendees are during meetings.

10. Flexible Meeting Spaces
Conference room setups that are easily customizable can adapt to different situations over the course of the months.
For instance, changing from hollow square style to banquet style from time to time is a great way to provide conference rooms with variety and better use of spaces.
Instead of deciding on a single conference room setup, constantly evolving and adapting to the needs of the meetings creates the perfect environment to boost productivity by implementing a clever and always-changing conference room design.

Summary: Top 10 Conference Room Design Ideas
The best way to implement innovative, trendy, and useful conference room setups is to think about the needs and requirements of company teams.
By following these 10 conference room setup ideas, it's possible to greatly improve the conference room design of companies. The following list is a summary is the best conference room design and setup ideas and trends:
Setup Meeting Room Displays in your office to greatly enhance scheduling and booking meeting rooms.
Virtual Reality in Meeting Rooms is great for small teams.
Conference Room Layout with Interactive Whiteboards are one step ahead of conference rooms that use old-fashioned boards.
Video Conference Rooms with LED Video Walls are cheaper and more sustainable options inside the meeting room design.
Themed Conference Room Ideas provides meeting rooms with personalization and customization options.
Modern Conference Rooms with sustainability features and innovative wall art are trending in 2023.
Conference Room Layouts for Training Rooms improve how new employees and clients are welcomed into a company.
Best Large Conference Room Layouts include banquet, lounge, and theater styles.
Meeting Spaces with Inclusive Furniture are more comfortable for elderly attendees and team members with mobility issues.
Flexible Meeting Spaces can be modified and changed through the year, which provides the room design with the ability to adapt to new changes.


FAQ
What Are Some Sustainability Features to Implement in Conference Room Setups?
Some of the most widely used sustainability features inside conference room setups include implementing energy-efficient lighting, maximizing natural lighting and ventilation, utilizing smart thermostat controls, and using sustainable materials in rooms designed for meetings.